Regular price
Sale price
$69.99 USD
Unit price
per
Sale
Sold out
Upgrade your HVAC register with AIRBRICK, a powerful booster fan that effectively resolves uneven room temperatures, delivering optimal airflow from your AC/Furnace to every corner of your home 

The fans turn On and Off automatically based on warm or cold airflow settings. Enjoy intelligent airflow detection in your wall or floor register

AIRBRICK - 410 is designed to fit perfectly in 4x10 inch register holes, making it a convenient and easy upgrade for your floor or wall register

No more struggling to reach high-up registers - the remote control allows you to adjust AIRBRICK's performance from the ground

Fine-tune your AIRBRICK experience with the dimmable display, perfect for any lighting conditions. Adjust the brightness to your preference, day or night

3-Way Aluminum Grill - an elegant front panel for efficient airflow, better HVAC performance, and durable, corrosion-resistant, low-maintenance construction, ensuring lasting reliability

Advanced Fan Design for Balanced Performance. AIRBRICK's fans effectively balance airflow and HVAC efficiency while maintaining a minimal noise level, ensuring a comfortable environment

Flexible Installation. Reversible cable (left to right) and multiple mounting options allow our fan register booster to adapt to room layouts, ensuring easy setup

Modern Design. With a sleek and contemporary design, AIRBRICK seamlessly blends with any decor while improving the efficiency and comfort of your HVAC system. If you're looking for 

fans for floor vents or duct fans for hvac registers in general, AIRBRICK is the device you need.
Share
View full details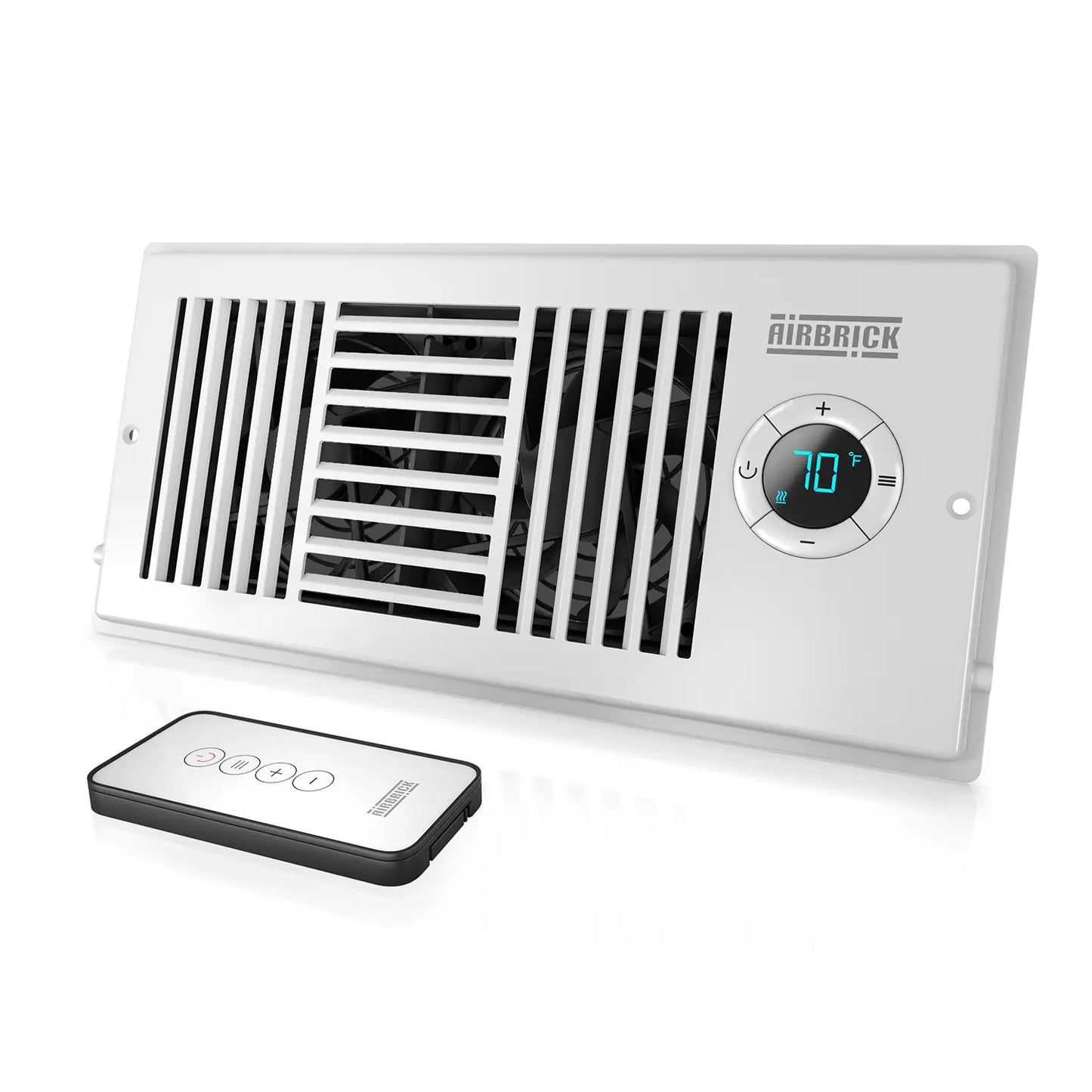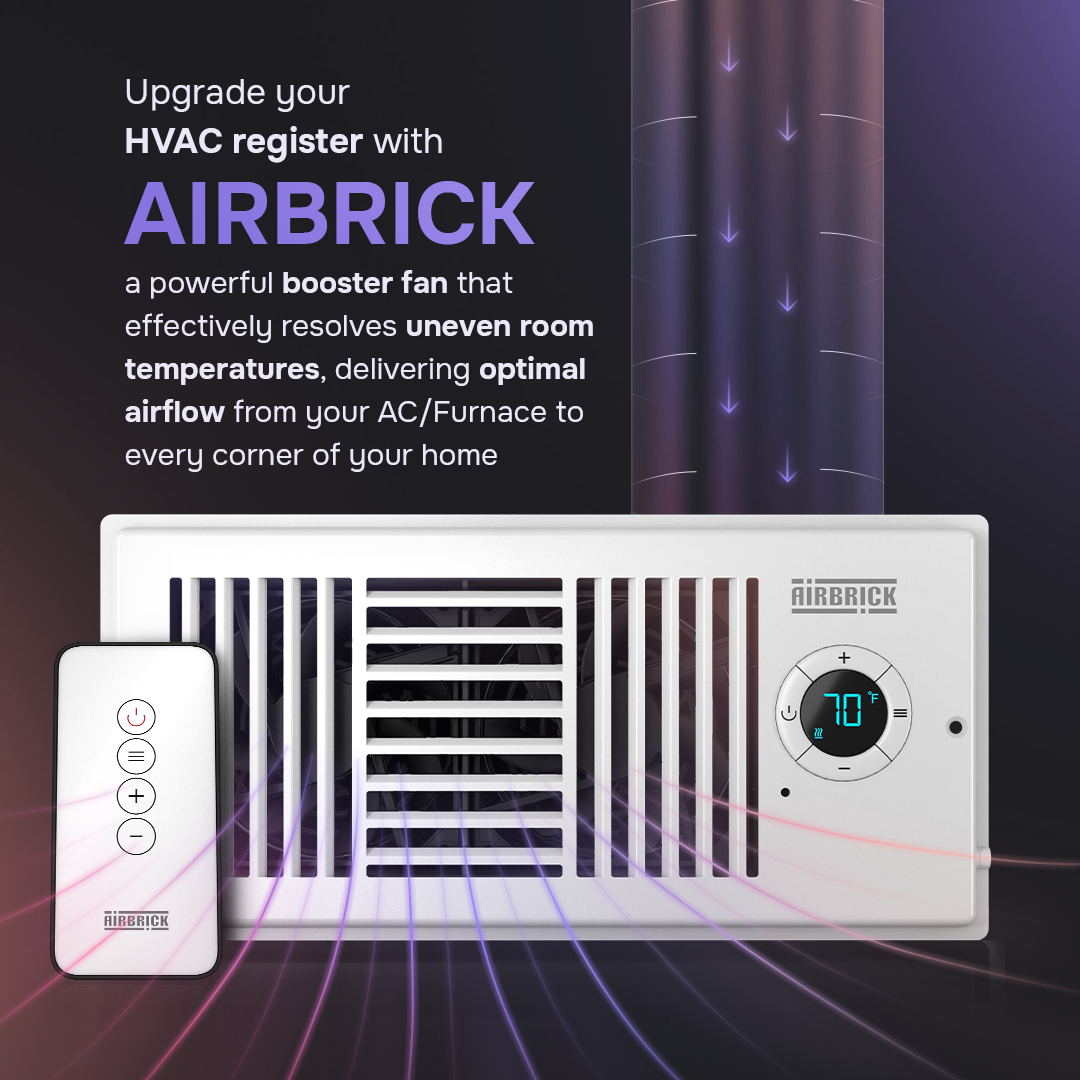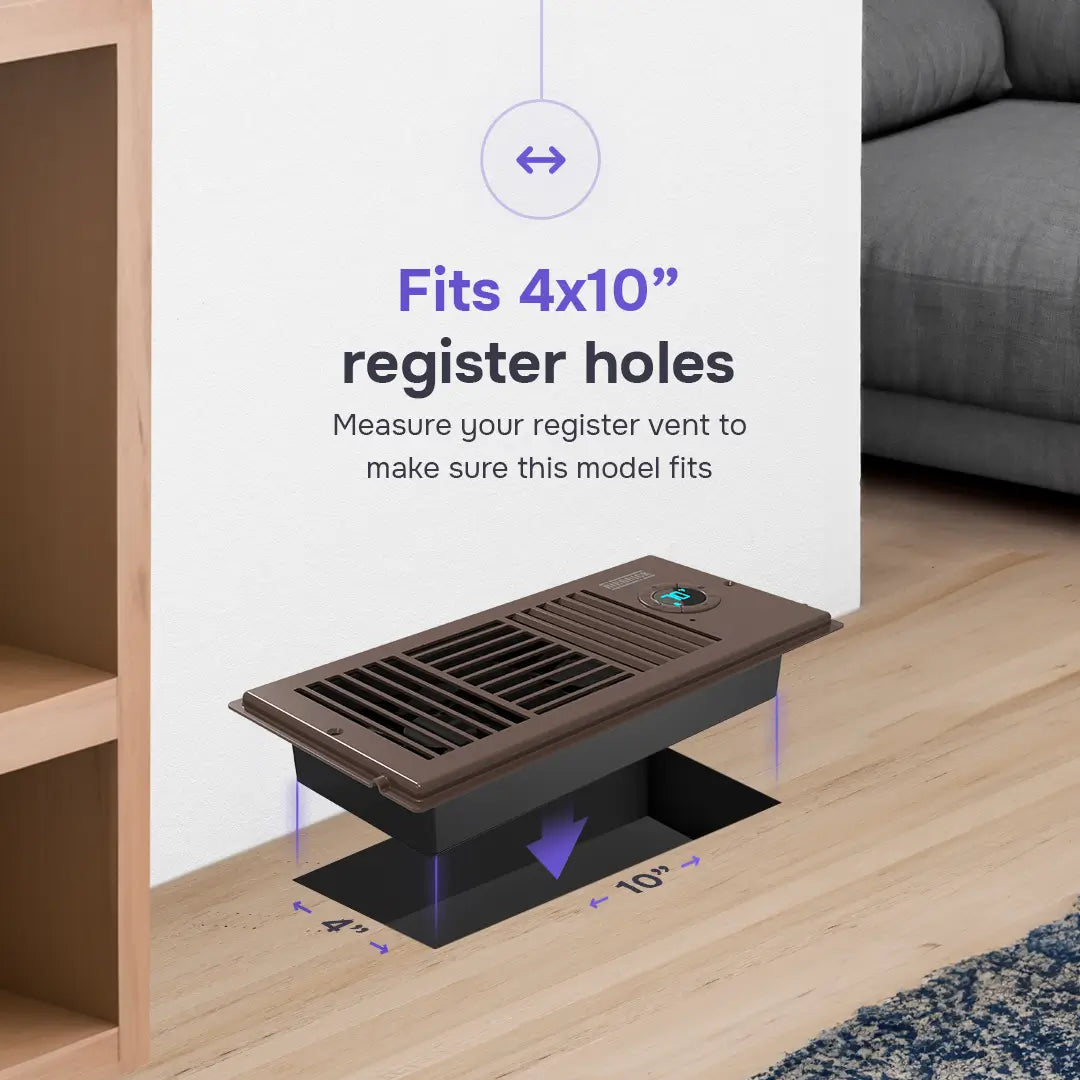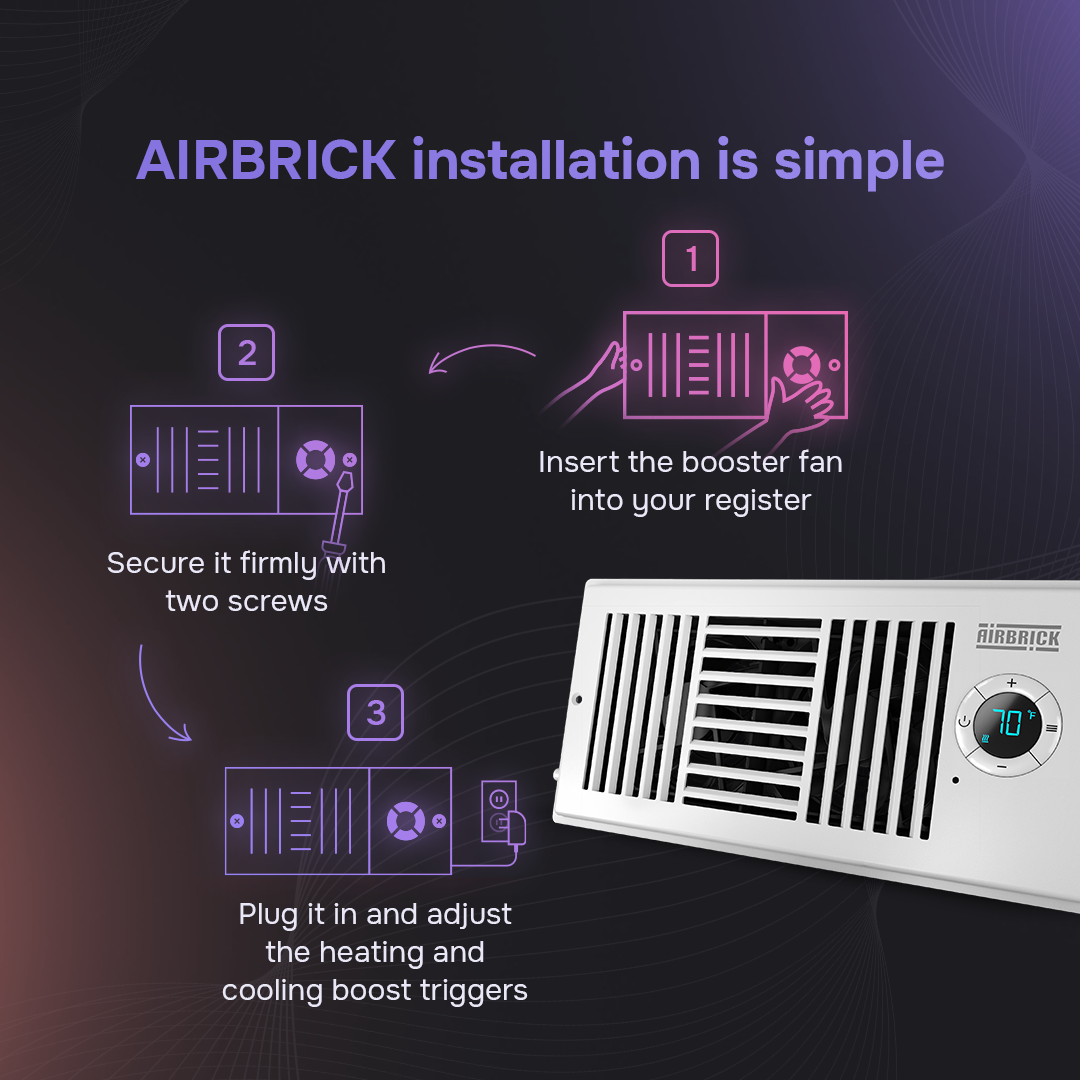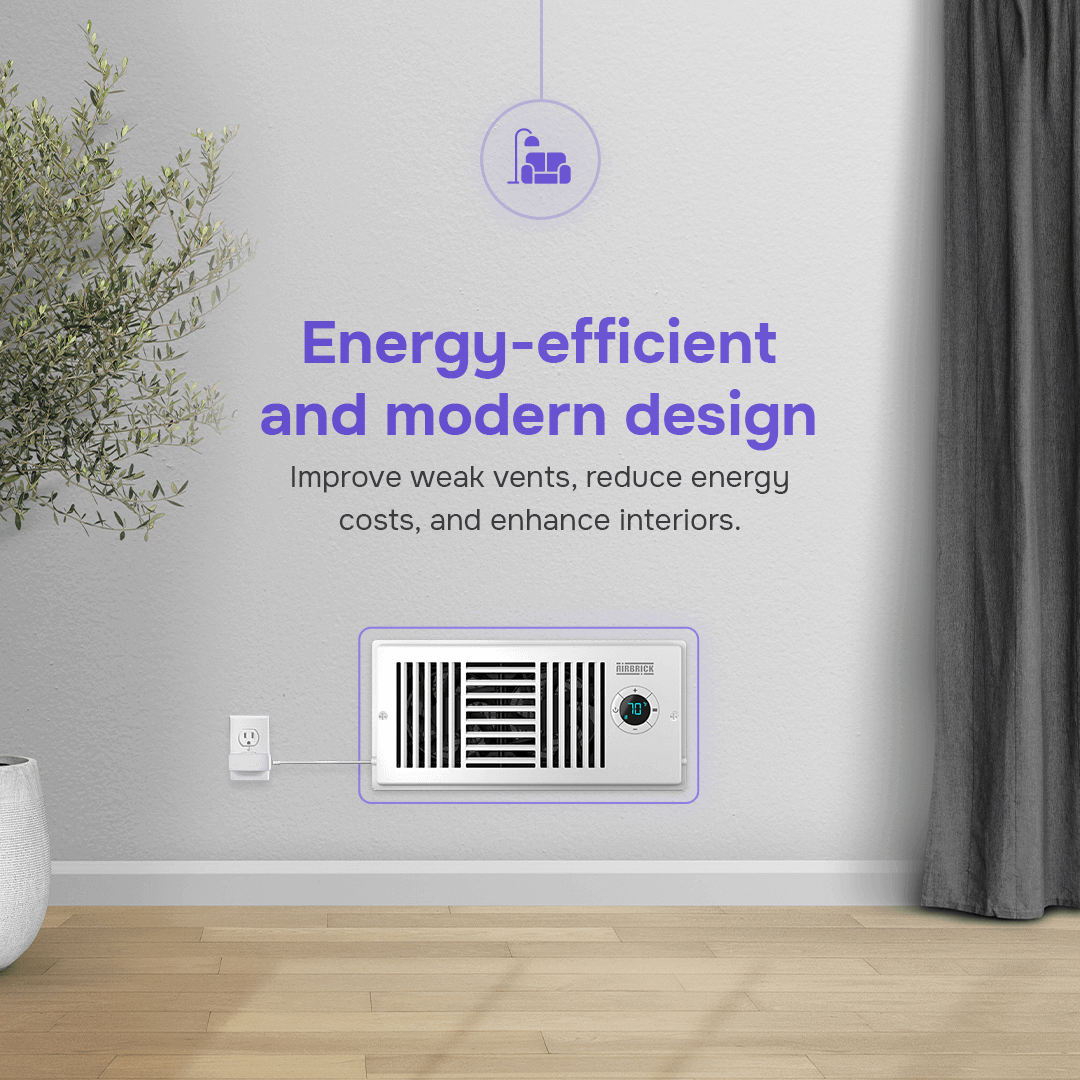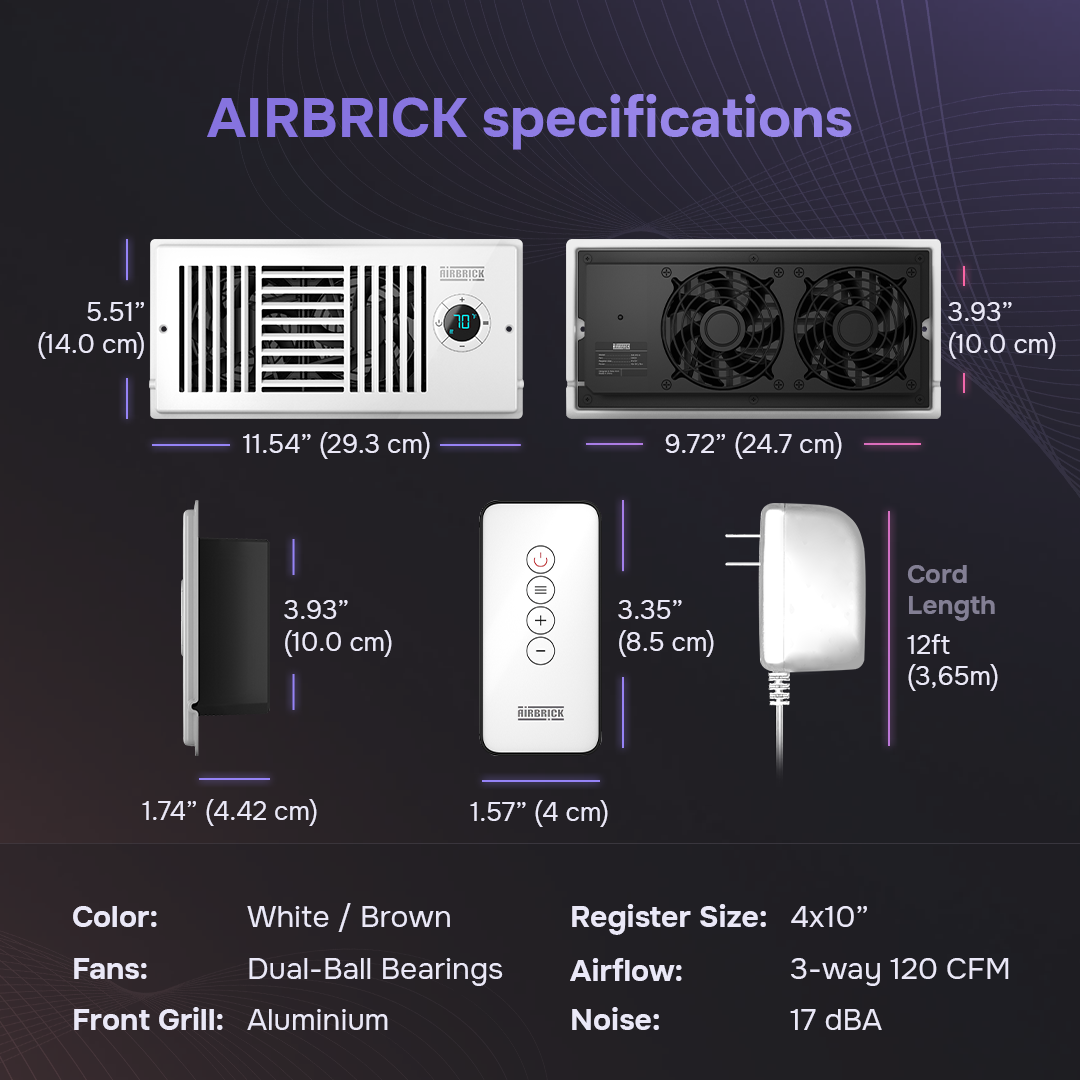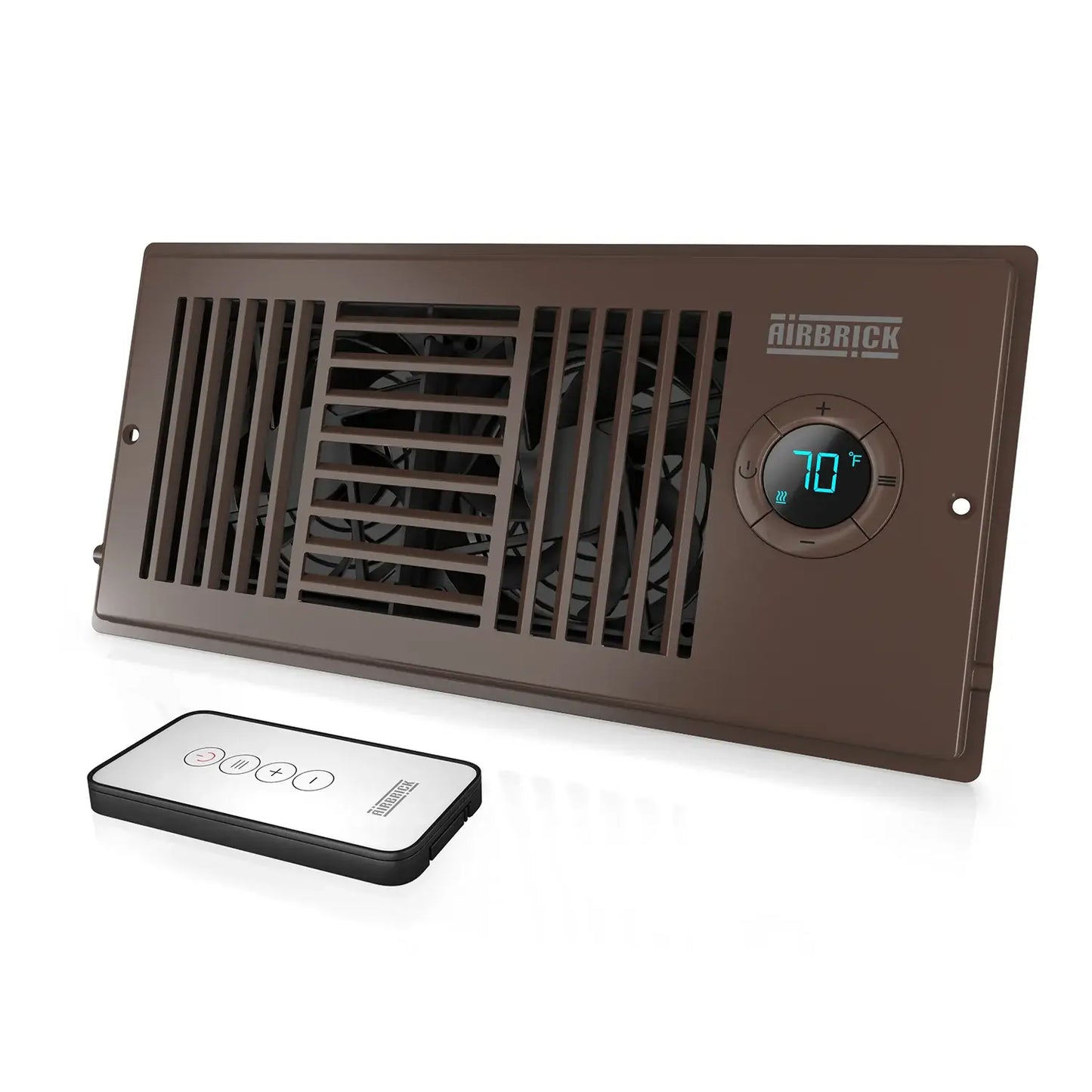 Intelligent thermostat

The Airbrick features an advanced thermostat system that measures the temperature inside the air vent and triggers the fans to turn on and off accordingly. You can adjust the low and high temperature triggers to your desired levels. When the temperature inside the vent reaches the set limits, the duct booster fan automatically turns on.

Handy remote control

Enjoy the convenience of a remote control that mimics all the functionality of the device itself. Adjust the temperature triggers, fan speed, and screen brightness without ever leaving your seat. The remote control is ergonomic and easy to operate. Whether you're watching TV or working at your desk, the remote control puts the power of Airbrick right in your hand.

User-friendly interface

The intuitive interface makes managing and customizing your vent booster fan effortless. The easy-to-use controls and user-friendly design allow you to adjust settings with ease. Plus, the backup memory feature ensures that your preferred settings are saved, even in case of a power outage. With the dimmable display, you can customize the brightness levels.

The three-way front grill

The Airbrick smart register booster fan features a three-way aluminum front grill that effectively spreads the airflow. This design optimizes airflow distribution and increases comfort in your home. The sleek and modern look of the Airbrick fits seamlessly into any room, making it a stylish and functional addition to your home's HVAC system.

Advanced Fan Design

Airbrick's advanced fan technology delivers high-performance airflow without disrupting the peace and quiet of your home. With 10 adjustable speed settings, you can customize the airflow to meet your needs. Whether you're looking to maximize effectiveness or simply need a gentle breeze, Airbrick's fans have got you covered.

Reversible cable

Airbrick's reversible cable is a convenient feature that allows you to easily plug in the booster fan regardless of the location of the wall outlet. The cable is designed to fit into cable grooves on both sides of the device, making installation quick and effortless. Say goodbye to the frustration of trying to plug in the cable in the right direction, and enjoy the simplicity and convenience of Airbrick's reversible cable.
}
}